Seattle Metaphysical Library Home  /   Book Reviews
Stephanie Merchant reviews:
<![if !vml]>

<![endif]>Mystic Traveler
Author: Sylvia Browne
Browne's latest book continues with her built upon knowledge from prior books, though this book instructs people on how to take the mantle of being a Mystical traveler as opposed to being a Mission Life entity.  Similar to Sylvia's other books – this book comes across as just a new product in her ever expanding product line. If you love listening to Sylvia talk in the way only she does- you will enjoy this book.

<![if !vml]>

<![endif]>Trust Your Vibes: Secret Tools for Six-Sensory Living
Author: Sonia Choquette
Publisher: Hay House
Date of Publication: 2005
Pages in Book: 272
Version donated to collection: Paperback
Donated by: TrustYourVibes.com

Trust your Vibes, is a great general intuitive acceptance book. This is the book to get
that certain someone you know who you feel has great instincts and yet time after time
refuses to follow that small little voice within. For those who struggle to apply their
"gut feels" in the work place this might give you the inspiration you need.
 
 The Intuitive Spark: Bringing Intuition Home to Your Child, Your Family, and You<![if !supportNestedAnchors]><![endif]>
<![if !vml]>

<![endif]>(formally published under the title: The Wise Child,1999 -by Three Rivers Press)
Author: Sonia Choquette
Publisher :Hay House
Date of Publication: Nov 2007
Pages in Book: 256
Version Donated to collection: Paperback
Donated by: TrustYourVibes.com
 
They say you should teach what you know and Choquette's book The Intuitive Sparks
follows this advice wonderfully. Choquette, a third generation intuitive was blessed to
grow up in a home where not only was the intuitive process accepted - It was openly
encouraged as a means of solving everyday problems and issues. This book is based on
many of the things the author learned growing up in such a supportive environment. It
seeks to help parents teach through active example what following intuition is all
about.
The strength of this book is the author's message that when we stop divorcing ourselves
from the blessing of intuitive knowledge, our whole life will open up to it's greatest
potential. For those who might have a desire to spice up their kid's Psy abilities in
hopes of having their child be the next John Edward or James VanPraagh, this book isn't
about platform psychic skills. This is not the book for psychic stage moms!
This book is about intuitive self-acceptance and nurturance. Psychic ability is
presented in a healthy non-spooky manner. I so enjoyed it that I am buying a copy for
my personal collection. For any parent or grandparent thinking they just might want to
do more to help support their young one's intuition, this book would be an amazing
resource!!
 
 
The Time Has Come...To Accept Your Intuitive Gifts!
Author: Sonia Choquette
Publisher: Hay House
Date of Publication: April 2008
Pages in Book: 144
Version donated: Paperback
Donated by: TrustYourVibes.com
<![if !vml]>

<![endif]>
The Time Has Come.. To Accept Your Intuitive Gifts! Is a small "pocket" book that is
sure to delight Choquette fans who might want to have something fun and uplifting lying
around to remind them to use their intuitive gifts in their life more often. It is more
of a quote, reminder book than a book to "read". This little book might make a great add
on to a larger Birthday or graduation gift.
 
The Answer Is Simple… Love Yourself, Live Your Spirit!<![if !supportNestedAnchors]><![endif]>
Author: Sonia Choquette
Publisher: Hay House
Date of Publication: September 2008
Pages in Book: 187
Version donated: Paperback
Donated by: Hay House Publishing
<![if !vml]>
<![endif]>
Love Yourself, Live your Spirit is by far the most universal of all Choquette's books.
Her latest book is written in her always-gentle spirit and tone. Yet, with the new book,
Choquette leaves behind her prior emphasis on dividing the world into five or six
sensory states of being. The new book stresses the importance of soul nurturing and self
care. This book would be a fantastic gift for a loved one struggling with taking care of
everyone but themselves.
I'm so glad that I followed my intuition to pre-order a copy of this book for myself for
my private collection even before I received my review copy. This book is going to be
one I know I shall consult again in the future.
The only aspect of this book that I have reservations on is Choquette's concept that
when a person is doing something they love, the soul is where it ideally should be. I
believe the soul is at its finest not necessarily just when we are doing what we love
but in the spirit of love. It is in love that some of the most amazing sacrifices in
history have been made.

 Illuminating the Afterlife ~ Your Soul's Journey Through the Worlds Beyond<![if !supportNestedAnchors]><![endif]>.
<![if !vml]>

<![endif]>Author: Cyndi Dale
Publisher: Sounds True
Date of Publication: May 2008
Pages: 313
Donated by: http://www.soundstrue.com/
 
 
Illuminating the Afterlife is not for those who are afraid to talk about or think about
death -unless they want to give up the fear!
 
I just have to give a shout out to this psychic author who isn't afraid to talk about
what so many of us fear. I was floored by Dale's ability to talk about death and the
whole subject of death in such a natural manner. Cyndi Dale in writing about a subject
that so many authors before her have written about, she approaches the subject in a way
that is all her own and makes one stand back and ponder why we are all so afraid of
death if we believe that death is not the end.
 
I don't take as "law" her idea on the 12 Planes of Light, but I did enjoy the journey of
reading about them. I also enjoyed the meditations she has included to explore these
Planes of Light. Dale's concept is that the chakra system connects to the 12 Planes of
Light. She talks about tapping into the power of these twelve Planes of existence now in
life and not waiting until we are about to die to embrace the full power of our energy
system.
 
Dale is considered by some to be an authority on the chakras and teaches seminars aroundthe world on the Chakras. Her previous books include: Advanced Chakras Healing,
Attracting Prosperity through the Chakras, and New Chakra Healing.
 
This is a great book for those who know the basic chakra systems and want to push their
thoughts and understanding of them to "higher" levels. I always appreciate people
approaching the standards in new and refreshing ways. Assumptions on how things must be,has historically led us to miss some of the most obvious things in life and in the
sciences. In this book Dale isn't afraid to take her concepts where others have been
afraid to go.
 
I loved reading of this author's personal psychic experiences at the beginning of this
book. I look forward to the day when Dale shares her psychic experience with us all in a
more personal way in her writing. She drops some amazing personal experiences in this
book as if she were just mentioning she had gotten up, taken a shower, and gotten
dressed.
 
I am so thankful for the Dr. Pat show for having Cyndi Dale on the Dr. Pat show on
7/16/08 and for mentioning her upcoming appearance in the newsletter. I would have
missed this gem of a book if it hadn't been for Dr. Pat's show.

Author Cyndi Dale's website: http://www.cyndidale.com/
 
Ghosts Among Us: Uncovering the Truth About the Other Side<![if !supportNestedAnchors]><![endif]>
<![if !vml]>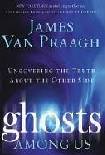 <![endif]>Author: James VanPraagh
Publisher: HarperOne
Date of Publication: May 2008
Pages: 224

Medium James VanPraagh (JVP) is a co-executive producer of the hit CBS series The Ghost
Whisperer, so it isn't a surprise that his newest book continues in the direction of
ghosts! Though it took quite some time to receive the book for review, I finally did so
thanks to the kind help of Cammy from the JVP Website.

JVP's latest book is a somewhat uplifting collection of reflections of ghosts and his
experiences with them as a medium. This book is written in the same manner as his prior
best selling books, Talking to Heaven and Reaching to Heaven. (We have both in our
collection at the Seattle Metaphysical Library). If you loved these books, you will
enjoy this book as well.

This isn't a book to bring on your summer camping trip to read around the campfire to
scare the tar out of your traveling companions. VanPraagh's book doesn't focus on the
desire to increase the fear of the deceased among the living. Instead of focusing
extensively on the potential scary aspects of ghosts, he tries to help his readers
accept the reality that earth bound spirits happen, dead people aren't really dead
energetically, and sometimes these things can actually directly affect the living
because spirit is energy.

At the back of the book, JVP includes quite a few very good exercises to help you
shield yourself from outside energy interference. These exercises aren't designed to
just help you shield yourself from ghosts. Some of them include traditional shielding
techniques well known by those who practice energy work and may be quite useful for
most anyone.

My favorite "scary" story in this book was of JVP's encountering ghosts at his haunted
seminary school. I couldn't help imagining the situation as taking the ghosts of
Hogwarts School of Witchcraft and Wizardry and putting them in a Catholic seminary with
the priests telling the young students that ghosts don't and can't exist while the
students keep seeing them. Can we say kind of whacked? I suppose it would be a good way
to weed out the sensitives among potential priestly candidates.

My favorite tender story was the haunting of a young couple's home who felt their
ghostly activity might harm their infant child. The twist in the story was amazing. I
dare not tell you more of this case for fear of ruining the story for you.

It would have been nice if VanPraagh hadn't darted from topic to topic. He had potential
to do even more with this book if only he had gone deeper into his subjects.
Unfortunately at the end of the book, VanPraagh sort of fell into a kind of new age
metaphysical lecture as if afraid that he had to get this stuff said for fear people
hadn't or wouldn't read his other books. I suppose he is writing for the Ghost Whisperer
audience.

The only part of this book that I am unable to endorse is VanPraagh's position on Ouija
Boards. Though JVP says he used this tool as part of his personal development, I would
suggest that people stay away from this seeming toy. One of my dear friend's grandfather
was the first person to ever talk to me about my own spiritual gifts shared a story with
me about his own extreme experience with his gifts in using one of these boards. He was
completely and absolutely firm impressing upon me that our ancestors and the spirits are
not to be treated lightly nor should talking to them treated as a game. Please do not
use this device to develop your spiritual capacity – Trust me, if it is supposed to
happen --it will and without any such device.

Notes on the Medium: VanPraagh's capacity fluctuates according to his health, mood, and
ego. However, when this medium steps into his capacity in love putting spirit before
success he has few equals and becomes a prime example of what success in spirit is
really all about. Seeing this medium go into the zone during his reading of me was like
watching a majestic Orca leap into the sky. It wasn't just his accuracy that was
impressive, it was his grace under pressure. Talent is one thing – How we use that
talent in the spirit of love is what defines mastery.

Author's website: http://vanpraagh.com/
Website for Ghost Whisperer: http://www.cbs.com/primetime/ghost_whisperer/
YouTube video about the book: http://www.youtube.com/watch?v=1aA2PS

Reviews written and copyrighted by Stephanie Merchant July 2008
Used with permission by
the Seattle Metaphysical Library.
<![if !supportLineBreakNewLine]>
<![endif]>